Is this a vase or a work of ceramic art? Perhaps both. Please note that this old table has a white painted top as well. A pity our telephone book wasn't taken away. It seems to spoil the photo by hiding the rest of this lovely woman's top part of her body. I do like the composition of the photo though, but don't ask me why. It's rather unique.  I doubt there is a similar vase anywhere in the world. We bought it some decades ago while still living in the inner Sydney suburb of Balmain. All I remember is going to a ceramic art exhibition in North Sydney and really like this work. It reminded us of the Italian master Modigliani with its elongated neck and general posture. Look at the Modigliani painting below.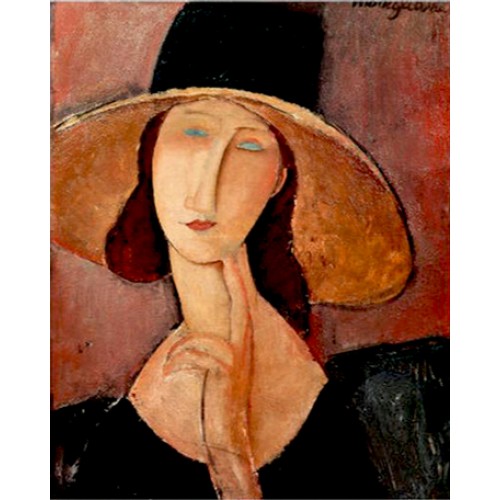 Amedeo Modigliani found little success during his short life but he would be happy to know he now is famous with his paintings and sculptures selling for millions. We went to an exhibition of some of his work many years ago when we were in Paris.
I am sure that the ceramic artist who made this vase could not but be an ardent admirer of Modigliani. It's funny how we are all influenced by what our eyes take in. Or, would it be better put, we SHOULD be impressed by the visual world and what a blessing eyesight gives us? It begs the question though; if we are so influenced by what our eyes take in, why allow so much visual ugliness to surround us? The madness of materialism now evident everywhere. Those advertising hoarding first invented in the US and almost immediately and eagerly copied and accepted in Australia. Those endless car sales yards with yawning bonnets and happy happy balloons tied to the rear vision mirrors. Is the making of money so important allowing it to override everything?
It's not everywhere like that though. There are havens of quiet and solitude if one looks carefully. We have a stretch of pure beauty near our house which we walk almost each day and never tire of it. A lovely walk along a small bubbling creek. There are ducks and old men who talk to each other in hushed calm voices. A parrot might fly overhead or we can find a dog scanning the reeds for hidden water fowl. We don't have to go far to see beauty and that's a blessing we should not take for granted.
It is lovely and makes it all worthwhile.