People must be getting so frustrated with the Corona virus. The word Corona belies the horrible truth it holds. The word itself flows so nicely and is so perfectly balanced with equal consonants and vowels. It really did not strike fear when I first heard it pronounced. Now, it holds the world at ransom but what can one do?
On reflection about the debilitating Corona pandemic I decided to again change the scroll because for a long time I have been looking for a wall where I could hang a very large painting I did back in the time when large paintings were normal. Australia is a large country and has so much space. It is not surprising that artists produce large paintings here in this wide open country of ours. Mind you, Mr Van Rijn did a similar large painting called The 'Nightwatch'.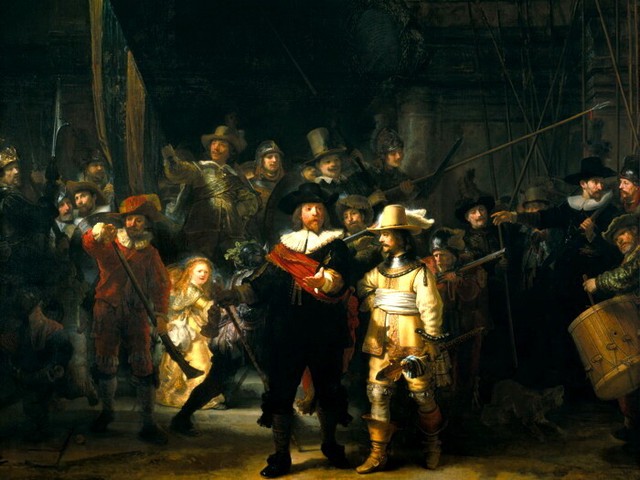 My own and much more modest but large painting has been looking for a wall since it was created but sadly spent many decades searching but ended just resting against  walls and till now, never was hung.
My large painting before going to be hung.
Unfortunately ,even though I now finally found a wall for it,  moving the painting was not easy. It is larger than a Queen size bed. Readers might remember that the configuration of my stairs would not allow my bed to go upstairs. I bought a slatted bed in a flat pack instead but did manage to wriggle the mattress upstairs.
The painting is even larger than a bed and stubbornly refused tot go upstairs.  I had to partially take the canvas of its stretcher to lessen the width of it. This was a tedious job with taking out dozens of staples in order to peel back the canvas from its wooden stretcher. It even then would refuse to go upstairs and I had to cut across a batten as well, hence the hand-saw in the picture below.
Of course, this wall was already occupied by my scroll of etchings but the scroll and the large painting could not be on the same wall. I had no option but to get back on the large ladder and remove the scroll and suspended it on the opposite wall. It was not easy. It looks good there but the change has taken away the previous pleasure of having to bow before it in due obeisance to the art of my etchings. A friend of mind thought some of the etchings were 'rude', 'it has fannies', this friend said. And another one shows a couple cavorting as well, the friend added.
I looked but did not really see that. Perhaps I lost the concentration on 'fannies' some time ago, and as for cavorting, it was always ridiculous and for mature people, sound of mind and some even with wisdom, to put themselves in such physical contortions in order to grind groins together is laughable, let alone for someone nudging 80. Who thought all that up?
The painting was reassembled and has now been hung and it looks magnificent. The scroll is on the other side.
Left side of painting
Right side of painting
It is so large that an iPhone camera can't  possibly capture it in one shot. I will try and make a video if that helps. Of course having escaped falling of the ladder I don't want to end up rolling down the stairs taking the photo! I can't get enough distance to get the whole painting in one photo.
I am so happy. The painting finally found a wall.