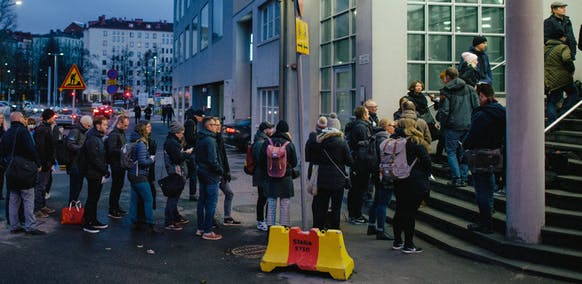 National Jealousy Day, Finland.
It's a well-known fact that through the decades the social democratic nations of the world consistently outperform most other democracies. And this outperformance is not just based on money only but includes social cohesion, societal levels of fairness and equality, empathy for others, acceptance and tolerance of differences, lower incarceration rates. Those social democratic nations are mainly concentrated in Northern Europe and the Scandinavian countries, including Finland.
Each year on the 1st of November, Finland publishes the names of all taxpayers and lists  all their earnings and the amount of tax they have paid. On that day, very early in the morning many people have spend hours queued up to get their first glimpse of those that have paid the highest amounts of taxation. It s seen almost like an honour to have paid the highest taxation therefore helping paying for the things that Finland strives for  to improve the country. Under the freedom of information Finland decided to lists those details in order to inform people of how much, where and by whom the taxation is paid for.
Have a look; https://www.weforum.org/agenda/2018/11/finland-has-just-published-everyone-s-taxes-on-national-jealousy-day/
In Australia we don't publish a list of taxpayers but instead we have the annual list of the richest which seems to be shamelessly published each year. We seem to tolerate with a nudge and wink how most of those very rich are happy to evade taxation and there is a  sense of admiration on how in Australia we treat taxation as an evil best avoided and lowered as much as possible. Apart from the US I know of no other country where taxation is held with such contempt, all richly manured and egged on by our shallow lot of politicians.
Indeed, with the present race for a national election of Government, it seems essential by most parties to lower taxation and give back taxation to the people and seen by many as a Trump card to win Government.  At the same time we witness almost on a nightly basis, TV footage of the brutalisation of our elderly in our underfunded understaffed and undertrained 'Aged Care'. Each time the Australian Government gives a tax cut, your mum and dad will suffer the consequences in Aged Care. Your son and daughter will suffer in education, and the pensioner will eat Spam and Gruel.
Think about it! Look how in the US, Donald Trump is twisting and turning in order to avoid making his financial records public. Is that true democracy or is this a disgrace? Look at how in Australia many private hospitals are now listed in the tax havens of the Cayman Islands. How is this allowed to happen?
We used to be a fair nation!