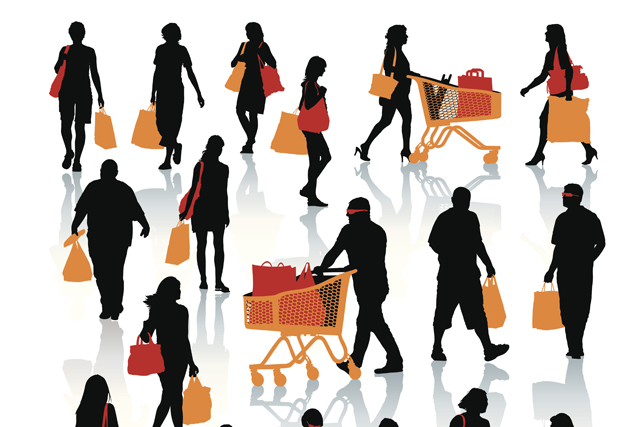 I like shopping. Supermarkets are my second home. I like the way to try and untangle the shopping trolley. And that is just the beginning. I hope for shoppers that have trouble to untangle a trolley. I then like to offer my help. At the end of our shopping expedition I sometimes help a customer retrieve their trolley deposit from the slotted device. You can only get the return of the coin by joining the trolley to  the stationary queue of trolleys. For some shoppers retrieving that coin is difficult. Their elderly hands might be rheumatically contorted. That's when I offer my help again. So do other shoppers. A working together community. Elderly shoppers don't give up easily. They keep going stoically and with determination.
Shopping with my wife is the norm. It has worked for decades. It is almost an institution. Through the years a kind of shopping etiquette between us has formed. I do the trolley duties including opening the car, getting the bags, clutching my trolley coin in right hand, and then wrestling with trolley. Some trolleys have a mind of their own and are unwilling to go into the direction they are being pushed to. Helvi likes to do shopping by perusing. She insists on looking at the item for enough time before it percolates into action. Only after that has taken place she will place it in my trolley. I never understood what one gets out of looking at potatoes. But, I just accept. I always push the trolley. Helvi never does! It is my domain.
Because of the perusal shopping habits by my wife I have taken to following her dutifully from behind. The middle isles at Aldi's are the slowest.  They carry non-food items. This is where mainly women are to be found. Men only congregate around the power-tools or sets of multiple screwdrivers. Each Wednesday there are new items. Most of them are of utensil or household varieties but can include fashion, ski apparel, chairs, TV's and lots of kitchen gadgets. Some of the uses are too esoteric for me to comprehend. These aisles can still at times cause some marital friction. I have to be extra beware not to make snide remarks. Last week there were large rubber balls to roll-around over to become athletic and slim again. 'Athletic, with row after row of sugary drinks, acres of chocolate and lollies, I suggested?'  'Don't always be so negative', Helvi said.
I have a roll of calming mints just in case.
The ultimate of self-control is mustered when we get to a new supply of beauty products/pharmaceuticals, especially creams and re-hydrating ointments including carotene make-up with celery extract. The worst are the moisturising creams and hair-colouring divisions. I get close to feeling sick. There is something about that section that I need support with. I end up leaning against a shelf. I need support, almost medical intervention. It is so boring. Helvi knows it but takes no notice. She knows the ritual and tells me, 'Just go to the frozen fish section.'  'I need more time, she says.' She knows I like prawns and salmon. Of course, she is right. I don't mind the perusing of fruit and veggies, fish. Why then the impatience at the middle aisles, especially the beauty articles.
Could it be the profusion of so many beauty articles in the bathroom already?
But as always. It comes to an end.I load the car up and return the trolley. I get my coin. We drive home.
Till, next time.