It has been written by others that Christmas period is often highly charged. It would be wise to remain in control. The police are never so busy as during the Christmas and New Year period. While we are glowing with joy, shaking hands, giving presents and baking the dinner, others often feel less convivial. Whatever we might feel, both the good and bad reach fever-pitch in the lead-up to Christmas. It is a period of great expectations for happiness but we would be wise to remain wary and wise to the images of commerce and tinkling cash registers that want to sweep all before it. A tsunami of reckless spending and gluttony is threatening all. This is the opposite of happiness. The nail in the coffin for what Christmas used to have, is the almost demonic commercialism of it all. Joseph and Mary would turn in their graves. Baby Jesus would weep, I am sure.
Many shoppers even at this early stage are already running around nervously. They confer by iPhone for advice on whether the pavlova is better or cheaper at Woollies or Aldi. Should they get the double smoked ham now? Yet, was it only last year they promised not to ever get ham again. Or has it been forgotten that the pavlova ended up in the recycle bin with rotten mangoes and the over-ripe prawns? The trolleys are already being filled as if expecting a Russian bombardment. Calm down. The shops will only be closed for one day. Remember, last year how the David Jones's crowd on boxing day slept overnight outside in order to get T-shirts at a fantastic discount on Boxing day? Yet, a cursory look inside their wardrobes might well indicate a huge surplus of T-shirts. How can commerce have such grip on us?
Still, let's not get too churlish. The ones that ought to be allowed to enjoy the magic of a happy Christmas are the children.
But, dear Lord; what about Aleppo? What about the Syrian Christmas? I am afraid that we shall just continue to keep our eyes closed and switch of the telly or change over to the cricket score instead. The shouting about war crimes being committed are now just that, shouts.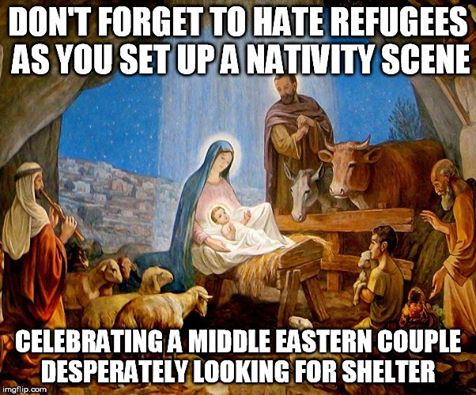 I noticed that the Johny O'keefe song ' You wanna make me shout' is now being used in a commercial without even a hint of an acknowledgement to the long dead pop-star. The patent on his music score must have run out and is now blatantly being used to sell stuff. Nothing is spared to make a buck, especially not a dead pop star.
Of course, if we want to revive the true spirit of Christmas we should just ignore the lure of the shopping and spending. Remembering it is a time for friendship, sharing and giving. Spare a thought for the refugees on Manus and Nauru detention. Hopefully, they will be finally allowed out of those torture camps and welcomed in the US. After three years, surely they deserve a good outcome.
What did they ever do wrong?